What is a store catchment?
A store catchment or trade area identifies the geographic area in which a brick-and-mortar store attracts its store's visitors. A catchment doesn't just relate to the population living within the catchment but could capture segments of the population working in or frequenting the area regularly. Parents dropping their kids at school or childcare is an excellent example of a segment of the population frequenting the area. [These insights can be found with GapMaps Visitation Data tool.]  Catchment type, size and design can be influenced by a range of factors. Within GapMaps Live, the four core catchment types are measured in Kilometre Radius, Trade Area/Free Draw, Drive Time/Walk Time and Layer Based (Government Areas, Statistical Areas, Suburbs or Postcodes).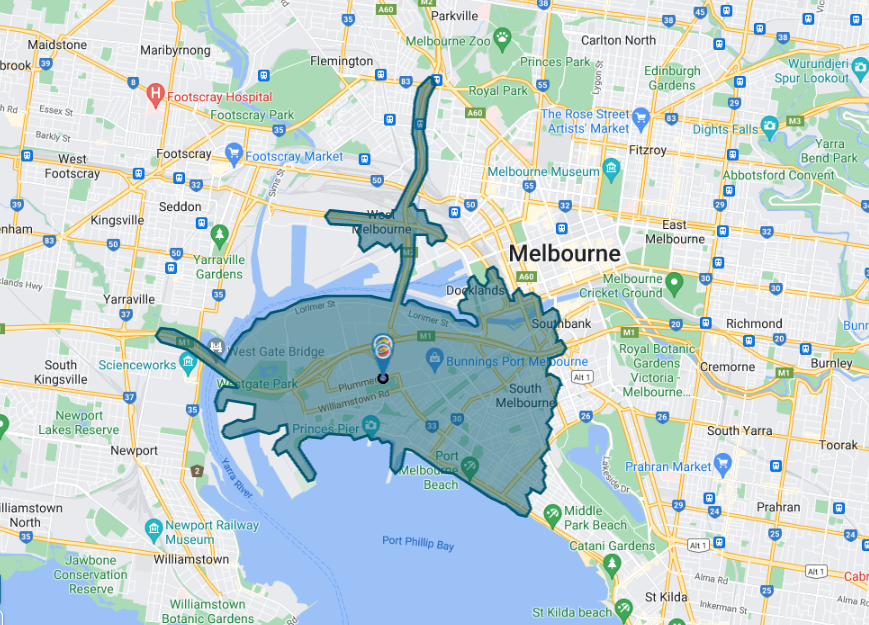 What is store catchment analysis? And why is it important? 
Once a catchment has been mapped, it's possible to gauge the population, businesses and other important places of interest within the area. Further analysis of this data can provide insights for better business decisions. Catchment analysis can identify various influential factors to a store's profit potential. Identifying close competitors, potential cannibalisation of existing stores, natural barriers such as a big river or busy bridge and generators such as hospitals and schools.
The store catchment analysis answers many essential business and marketing questions:
What are the socio-demographics of the area where my store is located?

Who are my competitors within 5-KM radius of my store?

Who are my potential customers within a 7-minute walk of my store?

Will this proposed store location cannibalise my existing store?

Where should I target my outdoor marketing efforts?

How does the local bridge traffic influence my drive-through customers?
Armed with more detailed knowledge about the store catchments, you should be able to exploit this data to improve your bottom line.
How do I know what my store catchment type and size should be? 
While there isn't a 'one size fits all' strategy for defining a store catchment area, certain factors come into play. Understanding your industry, store type and own brand is very important. It is usually beneficial to analyse your existing store network. Network analysis answer where current customers come from, how far they are willing to travel and how the locations of relevant Points Of Interest (Hospitals, Universities etc) influence their behaviour.
When analysing a network, possible questions to answer are:
What is the population saturation of the geographic area?

Is our proposed location a busy suburb with lots of traffic?

Will proximity to a primary school bring many hungry and time-poor parents into a drive-through restaurant?

What is the supply and demand of the product or service within the area in question? Is there a need for the store?
When defining catchment areas, one of the most critical questions is, 'How far are people willing to travel for this product or service?' To put this theory into practice, a person living in an inner city NSW suburb is less likely to travel more than five minutes to a grocery store shop from home or work. However, the same person could be tempted to travel forty minutes to a specialist boutique retail outlet.
What stores generally have small catchment areas? 
Take a busy coffee shop in a CBD tower. The overwhelming majority of customers come from the floors above. At the most, the shop may get customers from a few hundred metres away. That's because it's convenient for them to patronise that store in that location.
Of course, in this hypothetical, all other factors, like the quality of coffee and food, are equal to the nearby rivals. Other examples of businesses with small catchments include:
Supermarkets
Childcare centres
Fitness centres
What stores generally have large catchment areas? 
Melbourne is one of the largest cities in the world (32nd) but ranks 955th in population density, and it has only two IKEA stores.
IKEA judges it is convenient for customers to travel for a half-an-hour or more to shop there, and based on their success, they're probably right for their specialised products.
People will also travel long distances for:
Large format retailers
Specialist/boutique retailers
Specialist service providers
While specialist retailers or service providers can be small or large in size what makes them unique is that there are few businesses providing the same products or services so they are likely to draw in customers that travel longer distances than their nearest McDonalds.
Use GapMaps Live platform features to aid catchment mapping
GapMaps Live gives you tremendous flexibility in creating catchments across your entire network to identify optimal store locations.
Create one or multiple catchments with a range of methods and options. Include factors like radius, travel type (drive time or walk time from your store) and customer visitation data. This can provide powerful insights around where your true catchment areas are, using location data on mobile phones where users have given their permission to track their location.
These insights can help you answer questions like:
• Where are visitors coming from?
• Why are my customers visiting a location?
• What does my trade area look like?
• How many of my customers are within my catchments — and how many from beyond?
• How far will my customers travel to get to my location?
• What are the catchment areas of my locations? How do they compare to my competitors' locations?
Use the smallest data blocks, government boundaries or build your catchment with customer mobility data. The world is your oyster when it comes to GapMaps Live.
How does GapMaps help? 
With GapMaps Live, you're able to see catchment areas right down to the micro level in one simple location intelligence platform. Overlay any demographic factors you want to help understand the catchment.
If you'd like to demo GapMaps Live or would simply like to have a chat about how to best identify the right catchment for your store – reach out to us today.
Find out more about catchments and GapMaps Live