Using location intel to drive growth with GapMaps
This post was originally published on SCN Australia.
GapMaps is an Australian built and owned cloud-based location intelligence business which enables shopping centres, retailers and a wide range of other businesses to better understand the relationships between their locations, their customers, potential customers, business generators and competitors. Using GapMaps Live – our easy-to-use mapping and data analysis software, together with our expert team of GapMaps Advisory consultants, our clients can optimise their store location decisions and business processes.
The COVID-19 pandemic has brought a period of unprecedented turmoil to shopping centres and retailing generally in Australia and globally. However, many retailers and shopping centre owners are looking at the COVID experience of the past two years and the post-COVID outlook through a lens of opportunity. 
Their trading performances have improved, the integration of their bricks and mortar and digital presence has accelerated, and they are looking to grow their businesses again. A number of shopping centre groups and leading retailers have, in this period, been working with GapMaps to develop and deliver those growth plans.
The power of GapMaps Live and GapMaps Advisory
Our shopping centre clients are using GapMaps Live, together with GapMaps Advisory services, to analyse the trade areas served by each of their centres; compare and analyse other competitor shopping centre catchments with simple tools like the automated drive-time function or mobile device data analysis; upload images of the centre in a central repository; store other intel; identify tenant gaps/opportunities; or understand the store networks of a particular retailer, or collection of retailers, across Australia at the click of a button.
The combination of GapMaps Live and GapMaps Advisory is also helping our retail clients manage and optimise their store networks – visualising existing, proposed, or early-stage stores; identifying, validating and testing opportunities by understanding demographics/population, likely trade area overlaps and cannibalisation, plus competitor networks; or visualise store catchments using proprietary customer data or mobile device data and much more.
As an example, over the past two years, a leading large-footprint national retailer has defined and mapped its existing store catchments; identified key drivers of store performance; identified and prioritised the gaps in its network; and set about filling those gaps, already delivering the first half dozen opportunities.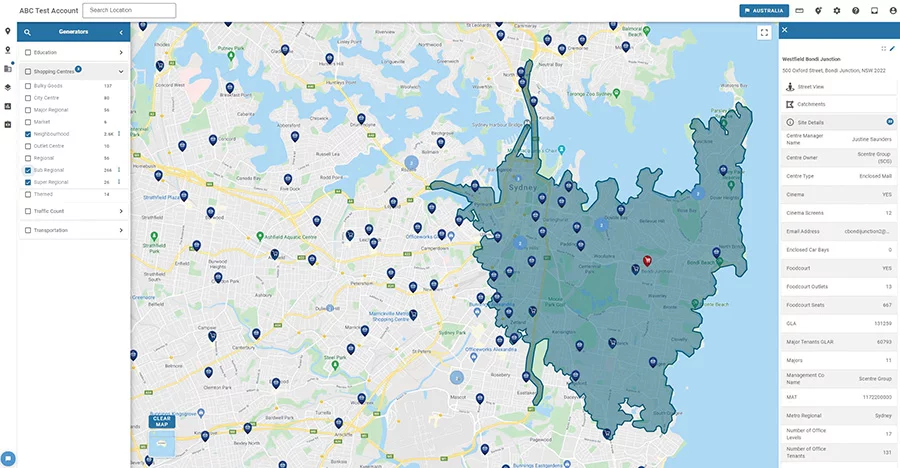 Unique features and attributes
What distinguishes GapMaps Live from other cloud-based mapping and data software packages is its unique combination of features and attributes (including excellent point-of-interest data, updated regularly), combined with sector and country experts. This combination enables us to deliver unparalleled analytical capabilities to our wide range of clients.
GapMaps makes the benefits of location intelligence available to anyone, at any level within each organisation, to draw insightful and actionable conclusions with minimal training. Combining a wide range of demographic, government, industry and proprietary data with clients' own network and customer data, viewed and analysed through GapMaps Live, enables our clients to undertake fast and efficient fact-based decision-making.
Advisory Services
GapMaps Advisory is a specialist global advisory service providing clients with an additional level of expertise, beyond the GapMaps platform. Our team has decades of experience with expertise in property, retail, shopping centres, economics and location analytics.
The team provides tactical and strategic advice to clients ranging from development of network strategies for major retailers (globally, across 21 countries) as well as small-to-medium and emerging retailers; to portfolio forecasting analysis for shopping centre clients; as well as bespoke site-specific analysis including market assessments, tenant mix advisory, impact analysis, and so on.  Our services also extend to non-retail uses which are increasingly important components of Australian shopping centres, including entertainment, medical, allied health, education and fitness/wellness, leveraging the breadth of data in GapMaps Live and the expertise we build in serving our many clients in each of these sectors.
About the Author
James Turnbull joined GapMaps Advisory earlier this year as Director. He has more than 15 years' experience in retail and shopping centre advisory. Prior to that, he was at Quantium, working with many of Australia's top retail shopping centre owners and major retailers analysing customer spending behaviours leveraging transaction data. He also worked with Tony Dimasi at MacroPlan Dimasi, advising private and Government clients across multiple property classes, with a focus on the retail sector.
If your business is looking to make the right location decision, based on facts, then we'd love to hear from you. Simply complete a get in touch form on our website.