Our new GapMaps website. Being in the right place never looked so good!
At GapMaps we are passionate about being in the right place. And what is the right place today? It's here! Our shiny new website is now live, and we are finally able to walk you through some of the new features and possibilities of GapMaps with our great new look.
This redesign all came about because we've been busily updating the GapMaps interface, and creating some new insight features that are already kicking goals for our clients. But the process of reimagining our look really made us think about our own history and values, and what got us to where we are today. That's been revelatory for us and we wanted to share a little of that with you here, too.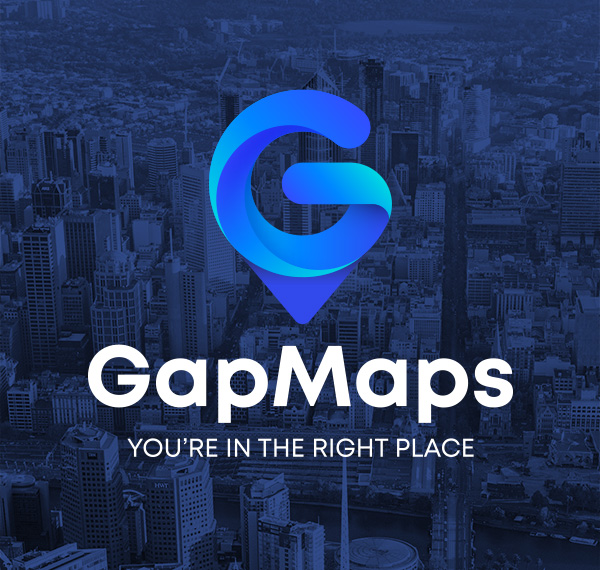 The process of reimagining our look really made us think about our own history and values, and what got us to where we are today. That's been revelatory for us and we wanted to share a little of that with you here, too.
A bit of history
When GapMaps was founded in 2013 we literally started with location pins on a map. We knew – as so many of our customers do, too – that you can have the best company in the world, with great staff and technology, but without understanding your market and where you are in that market, there will always be gaps.
So we stood there, looking at this map on a wall, with a bunch of pins in it, trying to work out where our competitors were located, who was living around our buildings, and what was going on in the streets and hearts of our community.
That kind of analysis can change the fate of a company. We knew that this kind of knowledge – intelligence about place and about people – is key to the success of any business.
But it's genuinely hard work finding the data, revealing the insights and applying expertise to the challenge. And it occurred to us that if we made a platform that was easy to use, compelling and just delivered on everything that strategists, network planners and investors might need, we'd really have something amazing.
And so we made GapMaps. And it was amazing.
Where we are today
Eight years later, GapMaps has grown to be a leading location intelligence platform with over 500 customers in 21 countries. And we could not be prouder of what we've achieved for all our customers.
But then we thought: we can do better still. And so we built our second generation platform, GapMaps Live, which is now being rolled out to our customers and is already generating extraordinary new insights which distinguishes GapMaps from other cloud-based mapping and data software packages.
We have migrated to microservices architecture on AWS, which enables third party APIs into GapMaps Live with key partners. This includes CoreLogic, Domain and Nearmap, ensuring our customers have a single, cloud-based platform experience across all of their data insights to make intelligent location decisions. Combined with our sector and country experts, this is what positions us as trusted experts in location intelligence.
So with GapMaps Live rolling out, we felt it was time to refresh the brand to reflect where the company is today and to position us for the exciting future ahead.
Our new look and us
We really are the experts in location intel. We know about our customers' businesses, and we know about their competitors. We know what all of their customers are doing, and we know where the future is heading. With our innovative technology, our unique and powerful data, and the expertise of our people, we deliver what our customers need, when they need it, in the way they need it.
The refreshed brand represents our brand attributes; see the facts, hold the knowledge and secure the future. It demonstrates our professionalism, our knowledge, and our innovation. It's clear and easy to navigate, and – like us – it feels trusted and approachable.
Where to from here?
Of course the whole world has been through nearly two years of profound change, but from what we are already seeing, competitive landscapes are altering dramatically as the world emerges from a kind of pandemic hibernation. We are taking it all in, and creating new insights from this rapidly changing world.
So along with our new look, we are continuing to improve what we do for our customers. Our people have always been the heart and mind of GapMaps, and we want to keep learning, keep delivering meaningful data and keep serving our customers' needs.
The work that we do each and every day to deliver on location intel has a real impact for our customers. Our people bring GapMaps to life. This is why we keep winning new customers, see old customers come back, and find existing customers referring new business to us.
So join us. Look around our new site. Tell us what you think and how we can help you. And remember: with GapMaps, you're in the right place.