NZ Dwelling Approval Insights
At GapMaps, we provide you with the most up-to-date information to make more informed decisions. We have recently updated the NZ Dwelling approval data, and here are our observations.
Total dwelling approvals in New Zealand remained consistent between Q1 and Q2 of 2023. While the total number of approvals remained stable, there has been a shift in the types of dwellings approved.
Auckland continues to lead the pack, with more than four times the number of approvals compared to any other district. This dominance in approvals has been consistent since Q1 2023 and 2022. Among the top 10 SA2 regions with the highest dwelling approvals in 2023, a remarkable 7 of them are in Auckland. Notably, Owairaka West and Long Bay in Auckland, along with Kennedy's Bush in Christchurch, are on track to have their most significant approval years in the past 15 years. In fact, Saint John's West has already 159 approvals in Q2 2023, surpassing its previous busiest year of 131 in 2022.
Q2 2023 saw 16 SA2 regions with more than 10 Apartment approvals, with only 4 of them having any approvals in Q1. Leading the pack, Owairaka West in Auckland had the highest number of Apartment approvals at 87, followed closely by Mount Cook West in Wellington with 65. On the other hand, 79 SA2 regions had over 10 house approvals during the same period, with fewer than 15% of these regions having no house approvals in Q1 2023. Notably, Rolleston South East and Kennedy's Bush both boasted over 90 house approvals in Q2 2023.
In total, 26 districts are on track to match or exceed their 2022 approval numbers, representing over 50% of their 2022 totals. The most notable contributor to this trend is Hamilton City, which has witnessed 714 new approvals in 2023, compared to 1077 in 2022. Intriguingly, none of the 2023 approvals in Hamilton City are for Apartments, with the majority falling under the Townhouse/Flat/Other category.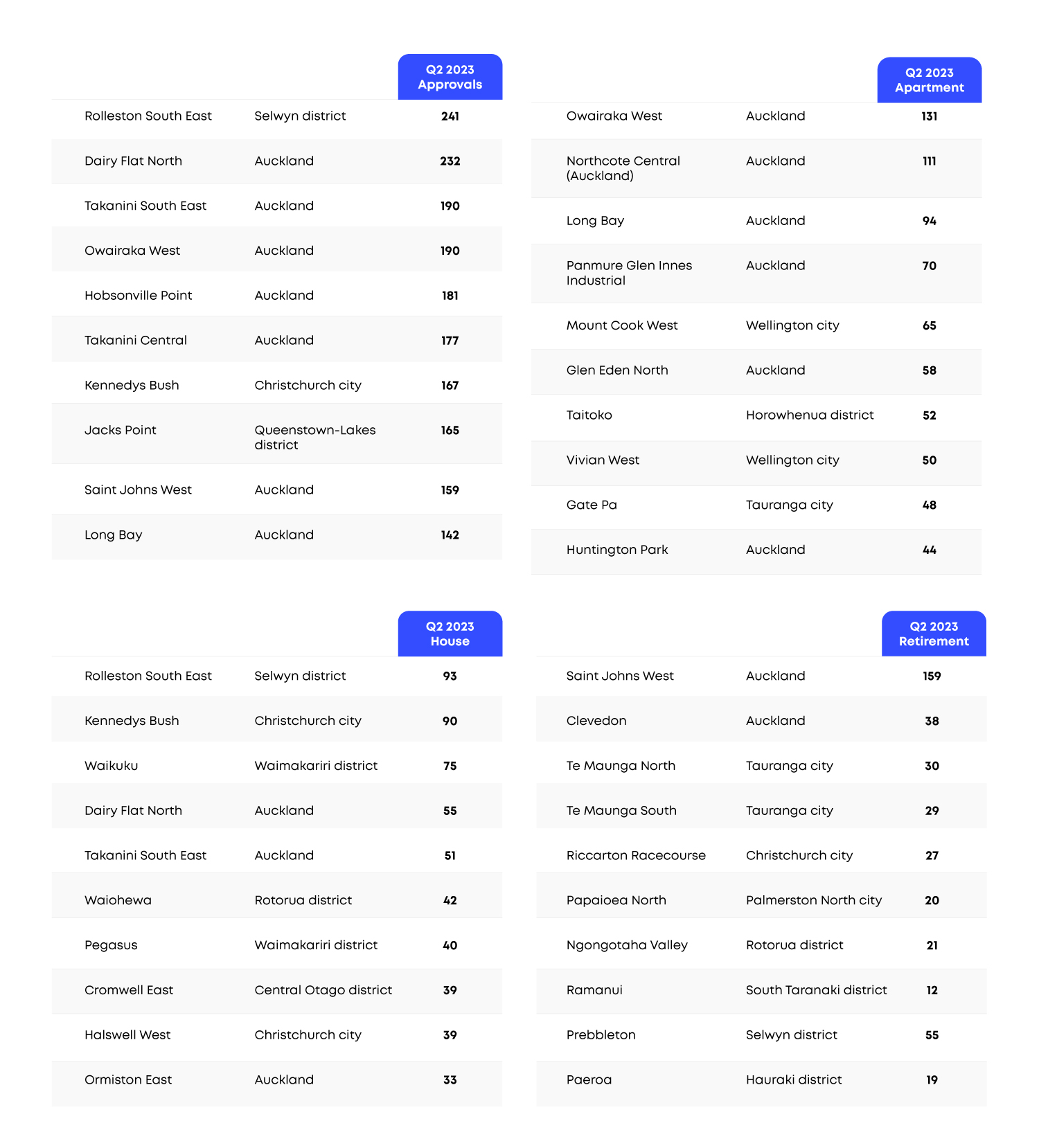 Intriguingly, Retirement Homes experienced a significant drop in approvals in Q2 2023, with only 467 compared to 920 in Q1. Similarly, Apartments saw a 40% decrease in approval numbers during the same period. However, there's a bright side to this story. Houses and Townhouses/Other Residential properties have seen an 8% and 16% increase, respectively, during Q2 2023.
Some regions that performed exceptionally well in 2022 experienced surprising declines in approvals during 2023. Northcote Central in Auckland, for instance, had 111 apartment approvals in Q1 2022 but saw none in Q2 2023. Similar trends were observed in SA2s like Panmure Glen Innes Industrial, Taitoko, and Gate Pa, all of which saw a drop to zero approvals in Q2 2023 after promising starts earlier in the year.
Regions such as Mount Wellington Central, Courtenay, and Grey Lynn East, which secured over 100 dwelling approvals each in 2022, have  had no approvals at all in 2023.
Log into GapMaps to visualise the NZ dwelling approval data or contact your client services manager to discuss.