GapMaps Live India
GIS software made easy
GapMaps Live isn't a regular GIS platform; we're quicker, easier and powered with the most comprehensive location intelligence in India.
Visualise your network on a cloud-based map and make the best location-based decisions. No expensive GIS certification, time-consuming GIS tutorials or GIS engineer required.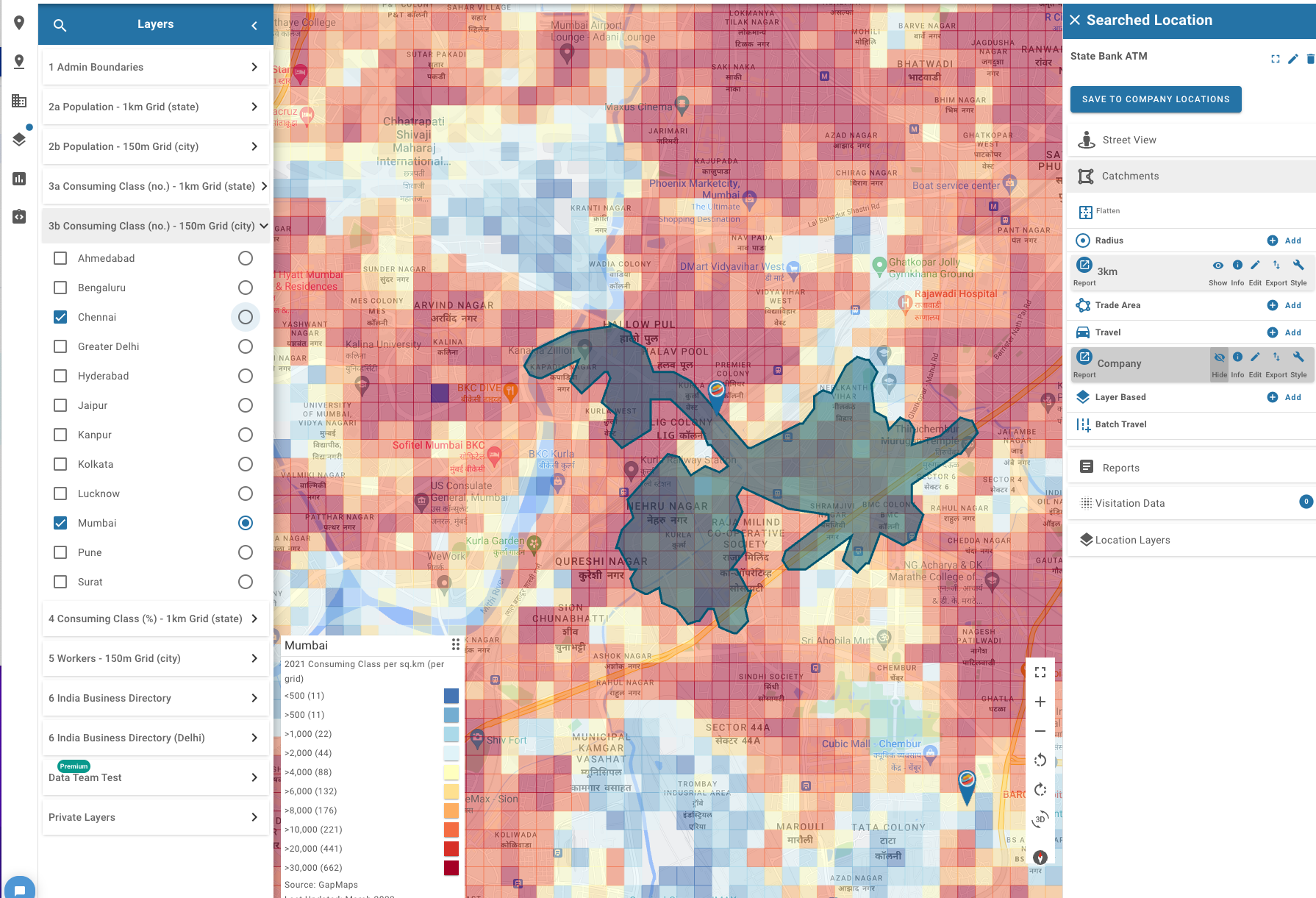 GIS solution and Location Intelligence company
Typically a Geographical Information System (GIS) is a complex software used for making location-based decisions. It hosts spatial information that is manipulated to analyse, visualise and map. Minimal changes and preloading the necessary data can be time-consuming and difficult.
GapMaps Live India supplies the same intelligence in an easy to use, plug-in-and-play system. We have an in-house data and location intelligence advisory. Speak to one of our team in India today!
GapMaps Live is preloaded with specific industry data, POI and can be used easily to make faster, surer and more confident location decisions.
Faster
Simple to use, GapMaps Live speeds up all the elements of location-based decision-making. We provide easy-to-access location analytics  – quickly. 
Smarter
Draw catchments based on radius, drive time or create free-form areas. Create sales and franchise territories. Select the catchment and export location analytics reports with all the necessary demographics and location intel. 
Surer
We are powered by regularly updated data sets and in-house location intelligence experts. So your team can make faster, smarter and more confident decisions.
 Better location-based decisions
Our global experts continually collate, analyse and create the latest location intelligence intel, so you always have greater sight of the insights that matter.
Whether you are in Mumbai, Surat, Pune, Kolkata, Chennai or Bengaluru – we have the population, consuming class and other location intelligence you need. 
"The GapMaps Live location intelligence platform allows us to easily analyse catchments across multiple cities in India and make confident decisions on optimal locations for new gyms using validated data. Being able to access and visualise key insights in the platform such as population density, prosperity, retail & infrastructure layer in 150 metre grids has fast-tracked the approval process for planned new locations. We are now in a great position to expand our club footprint with confidence in the coming years"
Mayank Bhatia
Regional Franchise Sales Manager
Anytime Fitness – Delhi, India 
What is GapMaps Live's GIS solution?
GapMaps Live is a GIS solution accessed via a cloud-based mapping platform. View the fastest and most comprehensive location intel available integrated with your business's data.
GapMaps Live represents the next generation of GIS location platforms.
Our GapMaps Live platform was built to solve our founders' own location decision problems. Technology is built by the people who need it. Our GIS solution is an easy-to-navigate and robust platform powered by regularly updated data sets and in-house location intelligence experts. Our data team curates, checks and updates data sets via multiple sources. We then translate the data into an easy-to-digest and understandable format. We enable your team to answer critical location questions quickly and with ease.
Deep sector expertise
Our treasure trove of data and insights provides market and catchment metrics that are unique to the GapMpas Live platform.
GapMaps GIS solution has a deep understanding of core sectors, including:
Cafe
Fast Food and QSR ( Quick Service Restaurants).
Health & Fitness
Retail
What are GapMaps Live features?
Make it yours – add your data to refine market planning opportunities.
See it your way- Style your own catchments – via radius, drive time, walk time or freeform.
Go macro or go micro – Scale your sales & Territories to suit your business. Detailed or top-level reports on catchments.
Go with the flow- Understand human & traffic movement patterns across your network.
Remove the guesswork – Discover industry-leading, supply-and-demand insights.
Know your surroundings – Understand your competitive landscape with access to points of interest data.
What integrated live datasets does GapMaps Live offer?
Demographic information, including the 2021 ABS Census
Population forecasts
Household expenditure insights
Over 50 categories of Points of Interest (POI) data
Development approvals data
Traffic data integration
Sector-specific supply and demand data