Childcare sector – 2021 Insights
Over the past 12 months, the Australian Federal Government's ongoing support for the childcare sector continues to grow both investor and operator confidence. With GapMaps Live you'll be able to easily visualise and compare locations that have unmet demand so you can make faster, smarter and surer decisions.
Surging growth driving demand
Nationally, the Long Day Care (LDC) sector in Australia commenced 2022 with 8,464 LDC facilities offering 607,405 places. With almost 2 million 0-5 year olds driving demand across the nation, the average market ratio is 3.2 children for every licensed place. This table from GapMaps Live below summarises the supply and demand insights by metropolitan and non-metro markets, as at the end 2021.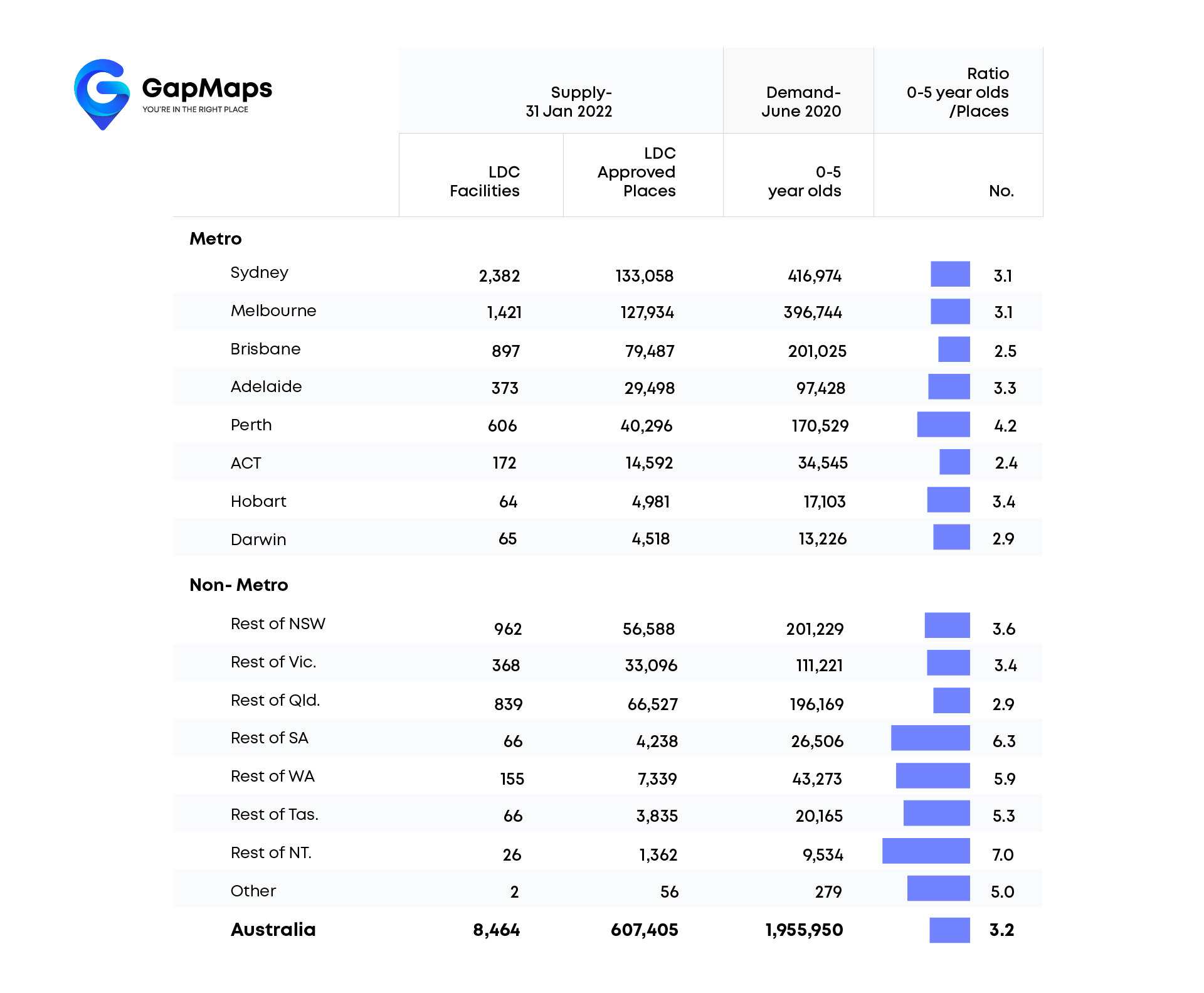 Data from January 2022, shows an additional 15 facilities have been added to this dynamic market, just in the past month. And you can see even more insights with GapMaps.
GapMaps Live provides you with the ability to visualise and compare markets and identify catchments with unmet demand.
There's more than 350 suburbs across Australia with a demand of 7+ children per licensed place. With GapMaps, you have the opportunity to quickly identify these locations and get services running fast enough to meet that local demand.
Up-to-date data at your fingertips
GapMaps Live allows you to visualise a range of up-to-date datasets to assess and analyse any location in Australia. The data ranges from point of interest data, demographic, socio economic, housing growth data, to Cordell Connect data from Core Logic (residential, commercial, industrial, community, engineering and mining projects), as well as supply and demand insights. And when it comes to future planning in the Childcare market, you need up-to-date information.
The monthly update of GapMaps Childcare insights includes:
• Supply and demand data, including LDC facilities, number of places and 0-5 year old population data;
• Average daily fees by age cohort;
• Proximity to primary schools, including student numbers;
• Insights identifying primary schools which are unsupported by proximate LDC centres;
• Development applications (updated weekly); and
• Population forecast to 2031 by age cohort.
Grasping the opportunity in Childcare – no matter where you are – is easy with GapMaps. After all, location is everything… and we know everything about locations.